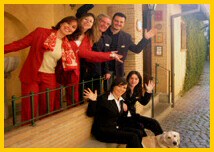 The Staff
You may refer to them regarding any problems, desires, or needs you may have. Antonio, Arianna, Tiziana, Giovanna, Pasquale, will always be ready and avaliable to assist you to the best of their ability.
Their responses will be accompanied voluntarily by a friendly smile.
Kind guest, you will be our welcome friend!
EXTRA SERVICE
(*Cash only)
* Transfer from/to Airport :
€ 55,00, up to 4 people - € 75,00, up to 8 people

* Limousine service

* Sightseeing tours in Rome and its Surroundings

* Laundry

* Hairdresser

* Shiatsu massage

* Facial and body treatments

* Baby sitting

* Bicycles are available with no extra charge